The Project Gutenberg EBook of The Strand District, by 
Sir Walter Besant and Geraldine Edith Mitton

Produced by Susan Skinner and the Online Distributed
Proofreading Team at http://www.pgdp.net




THE FASCINATION
OF LONDON

THE STRAND DISTRICT
---
IN THIS SERIES.
Cloth, price 1s. 6d. net; leather, price 2s. net each.
THE STRAND DISTRICT.
By Sir Walter Besant and G. E. Mitton.
WESTMINSTER.
By Sir Walter Besant and G. E. Mitton.
HAMPSTEAD AND MARYLEBONE.
By G. E. Mitton. Edited by Sir Walter Besant.
CHELSEA.
By G. E. Mitton. Edited by Sir Walter Besant.
KENSINGTON.
By G. E. Mitton. Edited by Sir Walter Besant.
HOLBORN AND BLOOMSBURY.
By Sir Walter Besant and G. E. Mitton.
HAMMERSMITH, PUTNEY, AND FULHAM.
By G. E. Mitton and J. C. Geikie.
MAYFAIR, BELGRAVIA, AND PIMLICO.
In the press.
---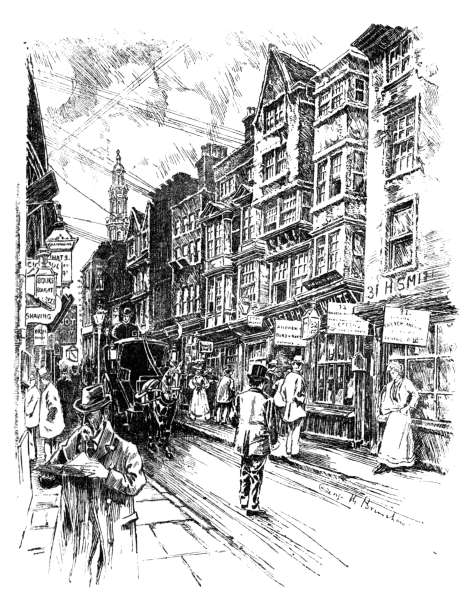 ---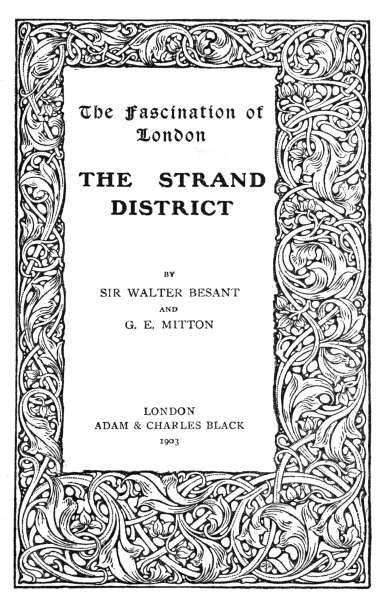 ---
The Fascination of London
THE STRAND DISTRICT
BY
SIR WALTER BESANT
AND
G. E. MITTON
LONDON
ADAM & CHARLES BLACK
1903
---
Published July, 1902
Reprinted, with corrections, April, 1903[Pg vii]
---
PREFATORY NOTE
A survey of London, a record of the greatest of all cities, that should preserve her history, her historical and literary associations, her mighty buildings, past and present, a book that should comprise all that Londoners love, all that they ought to know of their heritage from the past—this was the work on which Sir Walter Besant was engaged when he died.
As he himself said of it: "This work fascinates me more than anything else I've ever done. Nothing at all like it has ever been attempted before. I've been walking about London for the last thirty years, and I find something fresh in it every day."
He had seen one at least of his dreams realized in the People's Palace, but he was not destined to see this mighty work on London take form. He died when it was still incomplete. His scheme included several volumes on the history of London as a whole. These he finished up to the end of the eighteenth century, and they form a record of the great city practically unique, and exception[Pg viii]ally interesting, compiled by one who had the qualities both of novelist and historian, and who knew how to make the dry bones live. The volume on the eighteenth century, which Sir Walter called a "very big chapter indeed, and particularly interesting," will shortly be issued by Messrs. A. and C. Black, who had undertaken the publication of the Survey.
Sir Walter's idea was that the next two volumes should be a regular and systematic perambulation of London by different persons, so that the history of each parish should be complete in itself. This was a very original feature in the great scheme, and one in which he took the keenest interest. Enough has been done of this section to warrant its issue in the form originally intended, but in the meantime it is proposed to select some of the most interesting of the districts and publish them as a series of booklets, attractive alike to the local inhabitant and the student of London, because much of the interest and the history of London lie in these street associations. For this purpose Chelsea, Westminster, the Strand, and Hampstead have been selected for publication first, and have been revised and brought up to date.
The difficulty of finding a general title for the series was very great, for the title desired was one that would express concisely the undying charm[Pg ix] of London—that is to say, the continuity of her past history with the present times. In streets and stones, in names and palaces, her history is written for those who can read it, and the object of the series is to bring forward these associations, and to make them plain. The solution of the difficulty was found in the words of the man who loved London and planned the great scheme. The work "fascinated" him, and it was because of these associations that it did so. These links between past and present in themselves largely constitute The Fascination of London.
G. E. M.
---
CONTENTS
---
THE STRAND DISTRICT
THE END
---
BILLING AND SONS, LTD., PRINTERS, GUILDFORD.
---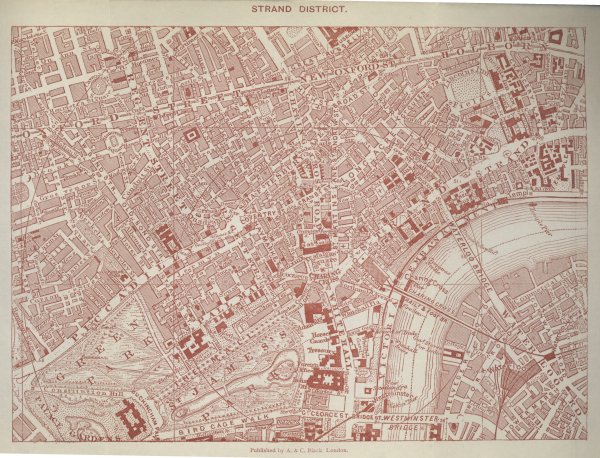 ---
And Last updated on: Thursday, 07-Jan-2021 11:09:05 GMT